TGIF! Halloween week is a doozy! Mix in a Day of the Dead celebration and parade to the week and I am one.tired.girl.
I'm linking up today with
Oh Boy 4th Grade
for a November Currently.
My mind is in a bunch of different places tonight. I'm looking forward to Thanksgiving break and the upcoming holidays. I'm trying to stay positive and think good thoughts about some family news that has me down, all the while being overcome with a rumbling tummy and the cuteness of this adorbs little boy on the Ellen show singing his heart out. Have you seen the Youtube video of this little dude? All this three year old wants to do is sing this Nicki Minaj song but his mom won't let him. And he is up.set.
Well, he's back on Ellen for a second time, and he's singing Call Me Maybe. Gah. His cuteness turns me to mush.
As far as music in the classroom goes, I cannot think straight right now in order to come up with my favorite. I play a lot of classical music. Usually I hit up the Target card section, where they have that machine you can push all the buttons on and listen to samples of cd's. You know, the songs with the waterfalls and birds squawking. I've picked up a couple of piano cd's there. For now, all I have in my head is Bruno Mars- Locked Out of Heaven.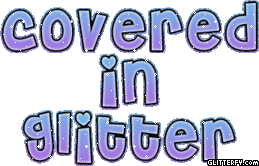 [Glitterfy.com - *Glitter Words*]