I love the holidays. I always have and always will. It feels like this year however, I am ready for a Christmas tree and decking the halls WAY earlier than usual. I can only guess the reason this is happening so early this year is because I'm ready for some happiness in this house. To forget the health issues that are plaguing our family and to bring on a happier time. The holidays always seem happy and covered in warmth.
I moved the living room furniture around today so that my Christmas tree will fit. Don't worry, I didn't get a tree. I'm just getting ready. I'll save the tree for after Thanksgiving. I also set up a Christmas Pandora station and prepared my DVR for Hallmark channel's plethora of holiday movies starting next weekend-yeehaw!
Tonight I put together some digital paper backgrounds for people to use on their upcoming holiday items. There are 25 different backgrounds in polka dots, chevron print, snowflakes, and more! They can be used for personal or commercial use. I hope someone can find them useful!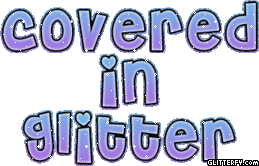 [Glitterfy.com - *Glitter Words*]