Happy Saturday! I hope everyone had a wonderful Christmas and is spending a lot of their time off with family and friends.
I took a break from blogging this week as my grandmother passed away on Christmas Eve. She was an amazing woman, who chased a professional dream while being the perfect homemaker and raising a loving family. A true inspiration for me. My heart aches for her children, especially my mama. We laid my grandmother to rest yesterday and I'm hoping some peace will come to my family.
This morning when I saw that Amanda at

Teaching Maddenness

was having a resolution linky party I felt I had to get in on it. There's always that period of self reflection after a funeral that makes you look at your life, the changes you want to make to it, and the inspiration you want to draw from the person that passed. Resolutions to me are a reinvention of yourself and we all could use a little polishing.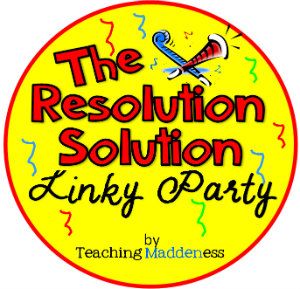 I need to make a conscious effort to integrate more technology into my lessons. I have a Promethean Board in my classroom, and do a fantastic job at teaching from it, as well as my document camera. But when it comes to making a lesson truly interactive on the board, I fall short. I need to increase the time that the students are using the board because the features that puppy has are amazing!
Finding ways for me to de-stress. As many have told me I'm the most sensitive person they have ever met. I take on my own stresses and then stress over other people's stresses. It's quite ridiculous. I am fully aware of the things I can do to relax myself and I know that I owe it to myself to do so, but I never seem to do those things. This needs to change.
I need to be more on top of the fact that I might want to blog about things happening in my classroom. You know, before I send the work home? It doesn't usually occur to me that a lesson might be fun to blog about until after the picture taking period is over and the art projects or whatnot are happily in the hands of the parents. Maybe that's part of being a new blogger? It's a goal to give things a little more forethought.